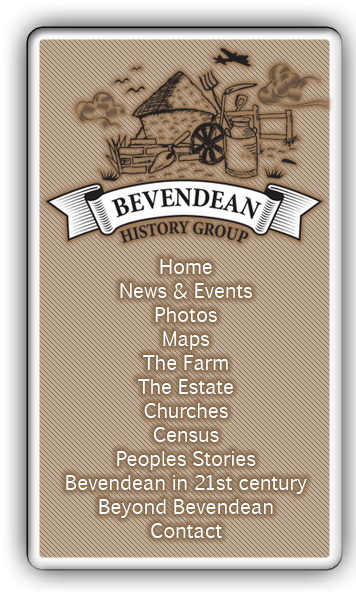 Bevendean History Project

Peoples Stories about Bevendean and the local area - 3

Recollections of a Stanmer Farmer c1985 given to C. W. Yeates
Mr Albert West family and his father have farmed Stanmer since c1900, first at Cold Dean Farm, whose barn is now Coldean Church. Then as tenant farmers at Stanmer Farm
.
Story_041
Recollections of Thomas Henry William Pelham


A monograph written by Thomas Pelham titled "Falmer Village Fifty Years Ago And Now" at Christmas 1913
.
Story_042
Carol Kendall photograph of a class at Bevendean School
A photograph from Carol Kendall nee Wickham of a class at Bevendean School in mid 1960s
.
Story_043
Carol Stevenson Memories of Bevendean
Carol was born in Bevendean in 1951 and lived there for the first 20 years of her life.
Story_044
Mysterious objects at Bevendean in 1946
An aerial photograph of Bevendean taken by the RAF in 1946 shows two features not visible today. Here is the explanation of what was there at the end of World War 2.
Story_045
New Cross on the roof of St Mary Magdalen Church
The Bishop of Lewes blessed two ceramic roof crosses on 8 December 2018 which had been installed at opposite ends of the main church roof at Coldean.
Story_046
Licensing of Fr Martin Powell at St Andrews, Moulsecoomb
Fr Martin Powell was licensed as the Priest-in-Charge of Moulsecoomb by the Right Reverend Richard Jackson, the Bishop of Lewes on Tuesday 18th December 2018.
Story_047
Allen Luxford Class Photograph at Bevendean School
Conner Luxford contacted the websites, in April 2021, about a class photograph taken at Bevendean School and asked if we could tell him when it was taken.
Story_048
Robert Brown remembers working at Bevendean Hospital
Robert has happy memoirs of working at Bevendean Hospital. He dealt with the Elm wards, which were for rheumatoid inpatients on six weeks complete bed rest.
Story_049
Andrew Whitehead remembers working at Bevendean Hospital
Andrew worked as an Auxiliary nurse at Bevendean Hospital between 1971 and 1973 when he was also studying for my O Levels and A Levels. He lived in "digs" in Riley Road, which is near the bottom of Coombe Road so not far to walk to work.
Story_050
Richard Rann at Bevendean Farm in the 1850s and 1860s
Sally Rann wrote to say she was trying to find Richard's wife, Sally's, maiden name.
Story_051
Andrew Crook Class Photograph taken at Bevendean School
Andrew Crook contacted the websites, in June 2021, and sent a class photograph taken at Bevendean School in 1978. Story_052
Jack Allcorn, My Father: An Unsung Hero by Norman Allcorn
Jack joined the L.D.V. (Local Defence Volunteers). He did sentry duty on Brighton Racecourse then he come home and milk the cows. Story_053
"Little Hell Village against Rector"
A story about the village of Falmer from the Daily Herald published on 5th September 1949.
Story_054
Burial in Falmer Cemetery
of the last Farmer at Bevendean
Edith and Frank Allcorn wanted to be buried in Falmer Church Cemetery. They had lived at Lower Bevendean Farm in the Parish of Falmer from 1908 until 1942 but had to pay £50 for the privilege.
Story_055
Hodshrove Farm House in 1901
Alison Betteridge great grandfather William Pavey was the farmer at Hodshrove Farm in 1901. He married Ada Allen his third wife soon after the 1901 Census was taken.
Story_056
More stories will appear here later.
If you have any memories you would like to share, please get in touch with the website using the contact page.