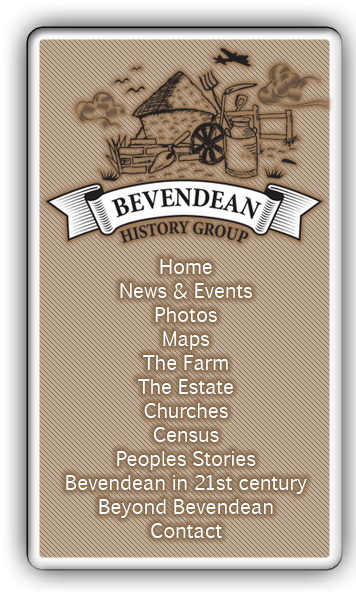 The Estate - Bevendean History Project

Air Raid Precautions at Bevendean and Moulsecombe

In late 1939 and early 1940 Air Raid Shelters were built in the Avenue, at Higher Bevendean and on the Moulsecoomb estate to protect the civilian population against bombing and strafing raids.
These shelters were of the trench type although some linked Anderson Shelters were built in the hillside between the Avenue and Bevendean Crescent.
Two shelters able to accommodate 100 people were built near to the Lewes road with eleven shelters able to accommodate 25 people each being built on the green in the centre of the Avenue.
Where there was a passageway in the middle of blocks of 4 houses, archway shelters were constructed by building walls of sandbags at either end. They had a very limited life as the sandbags became unstable.
The photograph above is titled, "Sandbags at a home in The Avenue, Moulsecoomb, c1940", and comes from The Argus Archive held at The Keep, Falmer.
This map is dated 1940 by which time the blue shelters have already been built and it was proposed to build the red shelters and construct the archway shelters.
This map was drawn in 1945 when it was proposed to build prefab houses on the green area in the middle of the Avenue and shows the location of ARP trench shelters (coloured red) built in 1940 before the shelters were filled in.
The green building is the central kitchen which by 1945 was being used exclusively to cook meals for Brighton schools.
The Air Raid Shelters built at the bottom of The Avenue by the side of the Lewes Road were designed to accommodate up to 100 people each.
An Air Raid shelter trench during construction work. This photograph was taken on 13 September 1939.
Demonstrating the public air raid shelter in Pelham Square, Brighton on the 19 September 1939. Interior view of structure with people seated on wooden benches.
More on ARP Shelters at Moulsecoomb