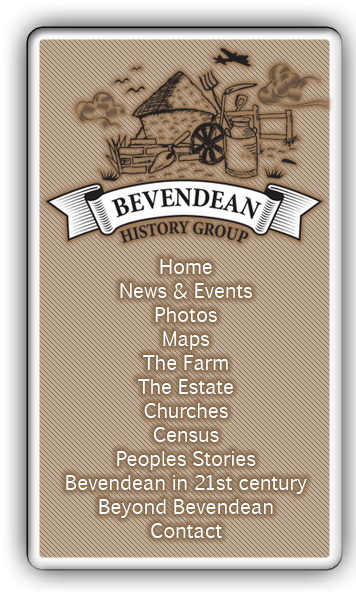 Peoples Stories - Bevendean History Project

Brian Donaldson Bevendean & Self-Build Bungalows

Interview with Brian Donaldson of Heath Hill Avenue
I was born on 7 January 1937 and as far as I know I was born in number 2 Redvers Road. That's about all I know about that.
Early Memories of the Avenue
My first memory of The Avenue was the allotments and playing on the green, mind you I was only two when we moved there. Playing there was quite good fun because there were quite a lot of youngsters about then. There were 6 or 7 of us in The Avenue at that time and of course the other place we used to play was in the air raid shelters because there were several air raid shelters built in the centre part. We used to play there and we used to wander all over the hills because there was nothing there then. We used to light fires and nobody and would stop us. Just generally growing up I suppose at that stage. Once I got a bit older of course I could remember the war. I remember sitting in the garden with my dad watching the dogfights overhead. I can also remember watching doodlebugs go over. I can remember going up to where they trained the soldiers at what is now Norwich Drive. That is where they used to train the soldiers, how we got away with it I don't know but we used to steal bombs and bring them home and take them apart and so on, and we are still here, we got away with it doing that sort of silly thing.
Playing with other children on The Avenue Green
That was what it was like in those days you weren't in doors at all; you were out playing until it was dark. We played all sorts of games. We used to play a game called tin can wobbly where we would kick a tin and then all hide and someone had to find you. A lot of that time we played round what was the canteen because there were plenty of places to hide around the canteen in The Avenue.
I would have thought that the canteen was there before the war because I always remember it even at a young age. I think I would have remembered people building it before the war but I'm not certain about that. It was there all the time we lived in The Avenue and we lived there until 1953.
I am not sure if it was a kitchen for preparing meals for schools; I just know they prepared meals, lots and lots of meals. We had great fun climbing up the water tower but we never got hurt.
I went to Coombe Road School until I was eleven. I used to go up The Avenue, climb up Jacob's ladder then go down Eastbourne Road and Coombe Road. I went there until I was 11 and then I went to Moulsecoomb School.
Our children went to Lower Bevendean School, and then I think they went to Falmer because during my time here they built Falmer School and I think both by son and my daughter went to Falmer.
People who lived in our house
There was just me, my mum and dad until my brother was born in in 1942. Dad had a couple of jobs, he was a delivery driver for coal for quite a while and then he joined a greengrocer and did deliveries for him. He was very keen on his garden, his garden was immaculate, he had every vegetable you could possibly think of and he had 2 greenhouses. I can still remember the taste of things they were far better than the taste of what we get from the shops now.
Allotments down the middle of The Avenue
The allotments were right down The Avenue except the 2 spots where they let us have a cricket pitch. One was in front of the canteen, there was the canteen, then the road, then an area for us to play on and there were 2 bits at the other end.
The thing I have to remind you about is that in my early days, the road didn't go all the way down on one side. It got as far as what we called the triangles; it came across there and went all the way down to the bottom of the Avenue and down what is now a little tiny parking road, to the main road at that time.
The buses came up and down the Avenue, but in those days we one got one bus an hour and there was hardly any traffic; then mostly horse and carts delivering stuff. If you want a little joke I can tell you the numbers of the first 2 double-decker buses that ever came up, one of them (they were both guys) was GUF161 which we called my bus and the other was GUF162 which we called my friend who lived opposite. There is a picture of me standing in his garden holding my baby daughter at the time at number 90 the Avenue.
Life in one of the prefabs in Heath Hill Avenue
Living in one of the prefabs was quite good, there was still a strong community spirit in those days and everybody spoke to each other over the fence. They were a lot warmer inside because the council house we came out of was very basic with no heating of any type and single glazed windows. The prefab was single glazed but it had a form of central heating which was an air duct system which went through the roof space and down into the rooms. Okay it wasn't super super but it was warmer and mum liked it. She swapped because it had a refrigerator and a proper oven and a proper kitchen. The houses in The Avenue still had a copper in the kitchen and a butler sink. The prefab was quite comfortable; they were fitted out before they put them together. They all came like a flat pack the same as what you get today if you buy a flat pack and they were all finished for you to move in.
Our garden at the prefab
My dad looked after the garden well, but he didn't do anything like he had done down The Avenue, it wasn't his idea of comfort. He had a vegetable patch; there was a hedge that you can see in one of photographs and a lawn. Between us we kept the lawn mown and dad put a few vegetables in. He kept it as well as he could really, but when we were down The Avenue he used the garden to grow a lot of vegetables. When we were down The Avenue my dad grew everything and the silly thing about my father was, not only did he grow a lot but he was a backroom boy. He used to give a lot of things to a man further down the road called Mr Porter. Mr Porter used to exhibit them in competitions and he used to win all the prizes, but they were my dad's, chrysanthemums, cucumbers and so on, he didn't worry about that. Dad spent his life in those days in the garden or in his greenhouses.
continued