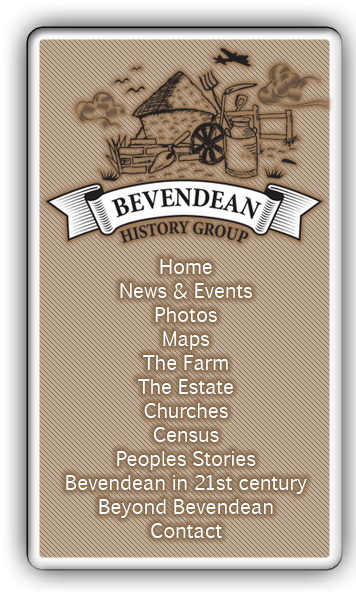 Peoples Stories - Bevendean History Project
Amelia Scopes memories of Bevendean
I was born on 15th of August 1920 at 7 Marshalls Row, Brighton, which was a little street beside the open market. There was a lovely row of cobbled cottages and my Gran lived in one. We lived there with her she had a tiny little garden in the front full of marigolds, then later we moved up to 24. When my mother was expecting another baby we moved to Ewart Street. Then I was taken ill and spent a lot of time in hospital. When I came out of hospital my mother had moved again to Francis Street, that is where the open market is now, first we went to number 35 and then we moved to 31 and by that time I was getting on for 14 and had to leave school.
At 14 I went to work looking after twins, they were 3 weeks old and I looked after them until they were 3. Then I wandered around and did different jobs and got married at 19.
During this time my mother had moved from Francis Street to Ann Street, there were 2 houses right next door to St. Bartholomew's Church. Next to the church was a house that was a shoe repairer and we had the house next door to it. I got married from there in 1939 and I went and lived in Viaduct Road where we had 3 rooms and I still went out to work. In the meantime my mum came to live with me in Viaduct Road because I had a big house and she wanted to get out of Ewart Street. But it isn't nice living with your parents, I don't know what it's like these days but we weren't comfortable.



Bomb Falls in Lewes Road


When we lived in Viaduct road, both my husband and brother worked at Allen West. My husband always came home for lunch at 12 o'clock, one day my brother came in and said you won't see your husband anymore. I asked why and he said "bombs have just fallen when they were all coming out of Allen West at 12 o'clock." Anyway he did turn up eventually but he had to take a long detour; I think that bomb must have dropped somewhere in the Franklin Road and Elm Grove area. I had my daughter Janet at the time and wasn't really interested in where the bombs fell only in my husband coming home. During the war you just got on with it, we used have little parties and things like that. I think people were much happier and healthier in those days, you had so many rations to live on and you walked and you cooked not like now getting it out of the fridge or the freezer. I'm still cooking for myself at 96, I have got a freezer but I still cook the food. I don't buy frozen stuff and just put it in the microwave and eat it, I like to cook. A lot of my friends from the old days are no longer alive. Now I sit around doing a bit of knitting and go out when I can.



Move to Southall Avenue


When I was going to have my first daughter Janet I went to the housing office and asked if there was any chance of a flat or house. She said I've got 2 flats in Southall Avenue you can take your choice. Just like that, not like it is today. Anyway she gave me the keys to the 2 flats and I said my sister-in-law needs one. She said you have one and you sister-in-law can have the other, and that's what we did.
I moved into number 68 and my sister in law moved into number 78, we were quite happy there until 1945 or 1946 when I had my son and I wanted a three-bedroom house and they offered me one but my husband said you don't want to walk all that way up the Avenue wait until he's a bit older. 5 years later we moved up to Norwich Drive it was right round at the end but we enjoyed it until I lost my son in 1970. We didn't want to stay there anymore so we came here to this flat in Durham Close. When my husband died I didn't want to move out, I didn't want to have all that upheaval again. I had been on my own here for 8 weeks because he was in hospital so I had got used to being here on my own. I have been in this flat since 1970.
I was in Southall Avenue from 1941 until we moved up to Norwich Drive. During the war we had the bottom flat and the lady upstairs had 2 children and her husband was in the Air Force. We had a Morrison shelter. She was frightened to stay upstairs so she came down with her 2 children and slept in the Morrison shelter every night. My mother used to say "you've got the shelter to sleep in but you are not using it, you're going to die and they're going to live". I said oh well we didn't want to sleep in it, so the mother and 2 children came downstairs and slept in the Morrison shelter every night and we slept in our ordinary beds.
You lived from hand to mouth in the days when we lived in Southall Avenue. The lady upstairs sometimes would walk down on Tuesdays to the little sweetshop and sweets were on ration but they used to save two special sweets for the children. Then we walked down a bit further to a butcher shop and he would make special hamburgers for us.
Then we went to Eversheds, where there was a grocer's, two doors from where the Labour club is now in Lewes road. We ordered our groceries at Eversheds and they would deliver them, it was very good to have them sent.
I've done lots of soppy things. I had another friend in Dewe Road and we used to go walking for miles. She had a little baby girl of 13 months old and was expecting another one. We used to go out morning, afternoon and evening. I pushed my daughter round in a great big pram I had until she was nearly 5 and a half because this friend had 2 young children and I went out with her. When she was expecting the other one it wasn't expected and it came about a month early. We went out in the morning to London Road came back and I got my husband's dinner at 12 o'clock then we went out again up to Western Road, quite a walk then from Southall Avenue and back with the kids. Then in the evening she said I fancy going to the pictures so we went to the Gaiety that was where the Vogue gyratory is now, near where the Allen public house was. (They change the name of the pub later, but it has been pulled down now).
We were sitting in the pictures when my friend said I have got a pain in my stomach. I said oh, but we saw the picture through, then she said lets go over to the Bear Hotel to have a gin. She had a couple of gins and I said while coming home you'll have to go to the hospital. She said no I'm not going. I got her home and said to her husband you have to take up to the hospital, and her baby was born at 3 am the next morning.
We used to have socials events at Allen West and go dancing; it was quite active and a good life really in a way. We enjoyed ourselves when we were young and had good times. We had to make our own amusements in those days and Allen West had socials once a month and my husband was on the committee there.
Do you remember Dudridges in Trafalgar Street it was a bread shop it was right at the bottom of Trafalgar Street. We used to go there on a Saturday and buy 144 roles and come home and cut them up and butter them. I would come home from work and fill all the rolls with cheese and eggs and ham and then we used to go up to the social and sometimes we would run the bar. There were 2 bars it depended if they were busy, I had to sell the rolls they made money on them. I've done so many buffets for weddings, funerals and everything I should be a millionaire really if I had charged but I did everything voluntary.



Partridge House


I worked at Partridge House for 30 odd years and then I went on the pool until I was 70 something and I went round visiting all the Homes. It wasn't until I was 91 that I packed up doing voluntary work.
I still go to the Bowling Club on Preston Road because they gave me an honorary life membership. This was indoor bowling but there is both indoor and outdoor bowling, I took blind people indoor bowling. My husband and I joined the Bowling Club in about 1964 then when he died I didn't want to go any more. I started doing voluntary work when I was 60 taking blind people bowling and so I got involved again.
Apart from running lunch clubs and all sorts of things I've done I enjoyed doing it, I didn't do it for the money, I did it for myself. People couldn't understand it, my brother used to say 'you're a blooming fool'; I didn't want to make money out of it. I didn't want to just curl up, I think that's why people die so young, you've got to keep going. I worked for 30 years and then 7 years on the pool at Partridge House, I used to talk to those poor old souls and say you've got to have a bath and they would say they didn't want to have one. After they got out they used to say that was lovely. I make myself a bath in the afternoon at 3 o'clock and if I can't have it then I have one at 6 o'clock. I know it sounds silly to have a routine but I don't go out much during the week. I lie there in a lovely foam bath and I say please God let me get out of here, as it's a job to get out; it's not as bad to get in. I take my phone, my mobile in with me in case I have to ring my daughter.


continued

s_025a