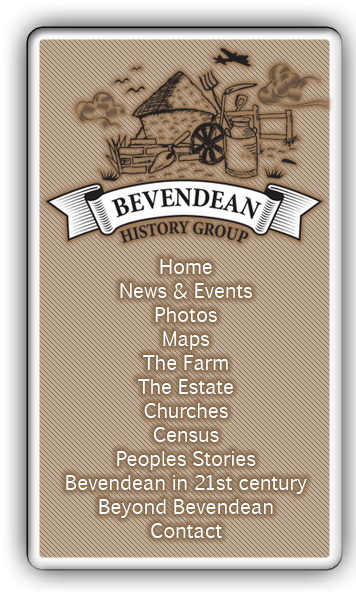 Peoples Stories - Bevendean History Project
Andre Bevan memories of Bevendean
I was born on June 17, 1943 at the Brighton General Hospital, when the nurse came along with me, my mother said "take him away I want a girl" and she had a name all lined up Julie. My mother was adamant but the nurse said look he is a beautiful boy.
Today I'm speaking to John and I've just come back from the Downs Crematorium to send my mother on her way, it was a very nice service, but not many people because of her age 95 and it went down well.



My Earliest Memory


My earliest memory of Bevendean would be the first time I went on a bus when I was 5 or 6 in about 1949. It was exciting looking out of the window and the first enterprise going out of our home with my mother. The bus was a similar one to that which came up to Hassocks and Hurstpierpoint.
The bus was a single decker Southdown bus, I think it was green but they changed the colours over the years. You've got to remember that they were lucky to have any transport after the war, so they grabbed anything and put the company logo on it. That picture is a Hurstpierpoint bus but it was similar to that, it was a single decker and I think the number was 13A or 13B or 13F that would be my first recognition of being in Bevendean going on that bus down to the Lewes Road.

Single Decker Bus - Andre Bevan
Move to Canada


My first home was with my grandmother at 269 Freshfield Road up near the racecourse. We lived there for a short period from 1943 to September 1944 then my mother and I were invited to go to Canada by the British Canadian government to live with my grandmother in Canada. We went on this epic journey just my mother and me, I was 18 months old. She went from Brighton to Victoria and spent the night there, then she got another train to Liverpool and she stayed there for a few days until everything was organised. Then she went on board the Cunard Mauritania all across the Atlantic zigzagging to keep away from U-boats and we arrived in Halifax. She disembarked there and we were on a train for a whole week going across Canada to the prairies of Winnipeg in Manitoba and then to a little place called Portage La Prairie where my grandmother lived and we stayed with her. We lived there from 1944 to 1947.
My father was a Canadian soldier who was in a prison camp in northern Germany in the Second World War for 18 months; he came home in about August 1945 and was reunited with my mother. My brother came along in 1946, he was born there but my father died in 1947. He died after a gunshot wound in suspicious circumstances.



Back to Brighton


Then my mother was on her own and she was getting homesick, so she contacted the Red Cross and the Red Cross agreed to bring us back to Britain. So we went on another train, which took a week to Montréal where we changed trains and got a train down to New York. When we arrived in New York at central station, it is a vast place, and I disappeared. I was a wanderer; I was looking around taking it all in and wandered off. I think eventually a member of the Armed Forces found me and took me back to my mother who was a bit upset! She got to know me as a chap who was interested in what was over the horizon, what was round the next corner as I grew up.
We came back on the Queen Mary from New York to Southampton and we went back to live at my grandmother's house at 269 Freshfield Road. Then my mother met up with her original fiancé who she knew from before the war and they got together and they got married in 1949 and moved into a prefab in Lower Bevendean. I was adopted by my mother's husband and we changed our names by deed poll to the name I have today which is Bevan and we lived at 19 Heath Hill Avenue in one of those very nice prefabs which they had set up as quick housing for people after the war.



Prefab in Heath Hill Avenue


The prefab was set on a bit of land, there was a pathway you walked up and there were 4 prefabs in the line all facing inwards so the entrance was from the pathway either on the left or the right. You didn't have spaces for motor vehicles. The prefabs were set in their own ground with a space at the back for people to grow vegetables or flowers or whatever. They were very unique in the way they were put together because they were constructed out of asbestos and wood, you wouldn't have that today. You went in the front door and you had a hallway immediately in front of you and off the hallway were the living room to the right and to the left was the master bedroom. You went along the hallway, the back bedroom was on the left, facing you was the toilet and to the right of that was the bathroom it was all very nicely decorated; there was a modern flush toilet a modern bath and modern everything. As you went through the lounge on the right, it was a decent size lounge with a fireplace for wood or coke or whatever to burn on it, which was the main source of heating, you came through to the kitchen which was ultramodern in the sense that it was all fitted on one side. There was the cooking area and I think there was a fridge under the window on the left-hand side and on the other side you had a washing machine and a form of table top and stools to sit at looking out of the window which faced the next prefab. I always remember what was growing there, it was called golden rain it spreads and was very stiff with golden flowers I think it was called golden rain [golden rod] that was all on that area. I always used to look out, that was nice because the colour was golden yellow and that is one of my favourite colours. I have got an iris which grows in my front garden, my star sign is Gemini and the star sign flower is an Iris and it's a yellow Iris.
So that was the layout of the bungalow inside, the exterior had a flat roof of tar pitch and felt with drainpipes running down round it. At the back was a concave shed, something from the war screwed and bolted together in a half moon shape, I think they were called Anderson shelters. There was a piece of land there big enough to grow vegetables; it was all wired off at the sides and from the plots at the back.



Walking over the fields


I walked around the fields, as I said to you beforehand; I was an eager beaver I wanted to know what was behind the trees or what was over the hill because Heath Hill Avenue is in a Valley which rises slightly to go up to another level and on both sides were hills. One was in the front side and eventually went up to Race Hill the one at the back went over the hill to Falmer and Lewes and these were our play areas because you weren't restricted you could just go to these places because there wasn't any barbed wire and there weren't really any restrictions. So we played up there especially in the summer holidays with the old idea of a cardboard box torn in half and we used it to slide down the hill. Again there must be a modern name for it but it was so much fun it really was, you wore the grass out in the summer because you were constantly going down. We used both sides because on the other side there was a field and in the second year we were there they were in the throes of building Plymouth Avenue. They built a few Council houses up there but the bottom part was empty and that is when the self-build started up in Plymouth Avenue, men came up and built their own bungalows. But talking about playing outside, I could take you there now and show you a place where we actually played football in the road. The reason we played football there was that there was a space in the kerbstones where they had cut out the curb and put a draining facing so that the water would go into it and that used to be the goal. Kicking a tennis ball into that and vice versa on the other side, it was right near the bus stop when you came down a little path from Plymouth Avenue.



Bevendean School


I went to Bevendean school it was obviously all new for a child, you were new and the school was new. The teachers were learning to fit themselves in as well as the pupils. I can't really say what it was like, I liked school. I was not a shy person, I wanted to go to school, and my mother didn't have to make me go. Beforehand when I went to Coombe Road School I went from Bevendean to Coombe Road on the bus and walked up to the infant [school] then came back across the road were we got a bus back, I went on my own at 6 on the bus. I said to my mother that's all right I can go on my own I am quite capable and she let me and it was fine, but there wasn't any traffic around in those days, no traffic at all you might see the odd bus and the odd truck but no one tearing about. There were a couple of issues with school, because my father's name was John Rivard.
(I've traced my family tree back to 1525 and my ancestors are very highly recorded because one of my ancestors was chosen by the then King of France in 1680 to go to new France which was Québec Canada and act as one of his representatives. These men were called the 12 voyageurs they sailed from La Rochelle with three French pounds, one for each of the first 3 years, which doesn't sound much. The 12 men went out and they were administrators and tax collectors, generally people working as ambassadors for the King and my ancestor ended up a military governor of Québec City.)
My father was a Canadian soldier who met my mother hence my name, we went to Canada as I've said and when he died, we came back and my mother met her old flame and they got married and I changed my name by deed poll to Bevan.
This all happened while I was at school, so in the register, one day it said Andre Rivard and then there was a pencil line through it and the next day it said Andre Bevan. Now I had a lot of problems explaining this to people, to other children but mostly mothers and parents. They thought what is happening here is this bloke getting something different to everybody else, is he a foreigner or what, it was not a traumatic time but a questionable time as lot of people couldn't spell or pronounce my name, Andre. When I was at school there were Michael's, David's, Barry's and Collin's but nobody with a twinge of a foreign accent. So when you said to me how did I get on, I got on all right but had this descriptive problem of trying to explain to people who I was.


| | |
| --- | --- |
| | Andre Bevan age 10 years |
continued

s_024a