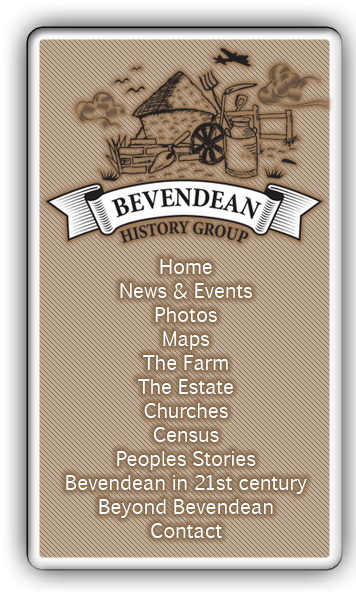 Peoples Stories - Bevendean History Project
Pearl Brown's memories of Higher and Lower Bevendean
Well to start with, I was born at 176 Bevendean Crescent in 1936; my parents were Ron and Doris Chapman.
We used to play hockey in the Street in Higher Bevendean. There was a fence round the area and I am afraid the boys used to take the big posts out and use them as a hockey sticks.

There would be a whole gang of us and we used have a long rope across the road and 2 people turned the skipping rope and we would all jump in it and skip and jump out and that was lovely. We had a gang of boys and girls and we used to build a camp against the fence at the back of the houses and the boys would cut the turf and pile it up as the wall and we used sacks for the roof and wood to support the sacks on it. We had candles in there and once it caught fire and we had to go and get buckets of water to put it out. We always had little tiny bonfires and get potato from our parents and put them on the bonfire and try to get a nice jacket potato. But I'm afraid it was always burnt on the outside, oh it was horrible but we enjoyed doing it.
We went for walks over to the field, there was a pond but there was no water in it and we called it the giants Poe. Now it's been filled up and has water in it. We used to go right over to Lower Bevendean and behind where the farm was, the boys would climb this lovely walnut tree and they used to drop the walnuts down to us. We took them home and tried to get the outsides off and our hands would be as green as anything. I used to love going over there to the woods which looked down onto Leybourne Road and Heath Hill Avenue and the boys would climb up this tree at the top of the Hill and attach a strong rope to the branches and we would swing right down the Hill through the trees. It was great, I loved that, we used to take turns swinging through the trees.

Then we would go over and take cardboard and sit on it and slide down the hill where the prefabs were, but before the prefabs were built in Heath Hill Avenue. In the winter we would have sledges and do the same thing and slide down the hill. On November 5 we went over the fields to collect firewood it was mostly gorse bushes which were full of oil and would burn well and we built a great big bonfire and all the neighbours would come with their fireworks, including jumping jacks fireworks, to put at the feet of the ladies to make them jump. On race days my mother used to take us right over the fields and up the hill, before Dartmouth Close was built, to the top of the Racehill. There was a little pigsty up there we would pass by and I remember once I tried to touch it but there was electric fence and I got a shock, I remember that one. There were also some other pigsties and a gang of us and some other children had this lovely black Alsatian dog, we were not going to take him but he jumped over the high fence and gate and so he came with us to the Drove Road where farmer West lived. We were walking along Drove road and that's where the pigsties were and as we passed the piggery the black Alsatian jumped in with the pigs. Oh and did the man shout at us, I'm not sure if he had a gun but he shouted at us so we ran away and ran right to the farm. I've never been there before. It was really lovely; I seem to remember they had a little pond there with ducks on it. It was where Warren road is, the farm is still there, I've never been there since but it was quaint now you look back, this little pond with these ducks.
Stuart West is the farmer there now, I have phoned him. I think we're going to start having cows in the fields behind the houses. We used to have cows in the field behind us, they were dairy cows and they had this one Jersey cow and it was never with the herd it was always behind the herd and we used to stroke it, it was so friendly, it was a lovely cow.

My father worked at Tamplins brewery as an electrical engineer. At the age of 13 he left school and had to go to evening school to learn his trade. He was a Labour man and a union man and he was a DJ of his time. He had an amplifier, a microphone and dance records like Victor Sylvester and he took bookings to play at school halls and at Moulsecoomb Hall. He was very involved in the area also as a governor for Moulsecoomb Girls School. He built his own wireless and had a big shed which is still standing in the garden of 176 Bevendean Crescent where he had an electric charger and people would bring their accumulators to him to be recharged.
Mum was a housewife with three children to look after. She was always knitting clothes. She worked very hard to feed us and keep the house clean. Thinking about shopping, the bread and groceries were delivered by the Co-op which used to come round. I remember a horse drawn waggon and I think it was Grooms Bakery, the meat was also delivered. Now this is very interesting, during the war, the milk came every day. There were two sisters, the Richards family, who lived in Hillside they had a motorcycle with a sidecar and they delivered the milk. Milk was delivered in churns to 2 garages in Nyetimber Hill and the girls had to fill the bottles before they could do their rounds. And then they collected the dirty bottles and I suppose they washed the bottles themselves, I don't remember that. After the war when their brother returned home he knew it was an old-fashioned way of going about things and it closed down. So then we got the milk from the Co-op after that, but that was fascinating because when the girls were towards the end of their round we would sometimes jump on the motorbike and have a lift down to Nyetimber Hill. Yes they were two lovely sisters; I think their brother was called Malcolm or something like that.
I went to Moulsecoomb School and I have got a photograph of me in my last year at school with Bates Nursery in the background. When I first started school I went to the infants and I was in the nursery class and they had this very old-fashioned rocking horse. In the summer we went to sleep on camp beds in the playground or we would fold our arms and put our head on top of the desk to have a little rest.


1951 Pearl Chapman at Moulsecoomb School with Bates Nursery in the background.



In 1947 we had very heavy snow and had our photo taken by Miss Millage local school teacher. That is the photograph with the large snowball.

I remember when my mother made a pot of tea she would pour out her tea and then knock next door and hand the teapot over to her neighbour and say here you are if you want a cup of tea, because tea was in short supply.
I remember we were a bit naughty about sweets because we only had 2 ounces of rations for sweets a week and we used to pinch cocoa powder from our parents and sugar and mix it and we used to go round and dip a finger in it. And when we got home we used say to each other "you have got cocoa all around your mouth, wipe it off or your mother will know". But then of course it was on the hanky and so she must have seen cocoa on the hanky.

continued

s_022a