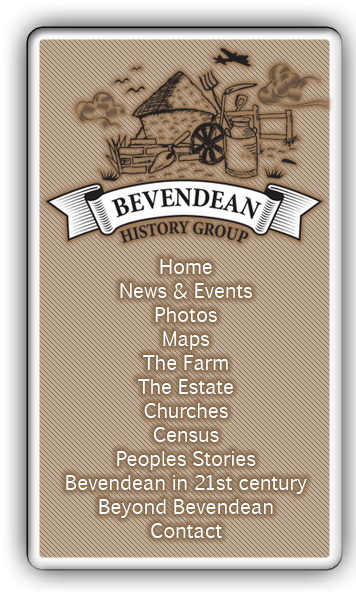 Peoples Stories - Bevendean History Project
John Funnell remembers Bevendean part 1
Childhood Memories


I was born on 13 January 1946 in Brighton, possibly in the Brighton General Hospital. I think we moved to Bevendean about 1951-52 to 18 Walmer Crescent. The houses were still in the process of being built, the house was there but there were no pavements and to get up to the house we had to go across a construction of wooden planking and iron bars, a temporary walkway. There was a bit of a cliff, my sister and I and other youngsters who lived in the area used to jump off this cliff into a big pile of sand it was great fun.

The central part of Walmer Crescent had not been built, that was built shortly after we arrived. As kids there were no health and safety issues then and we would spend the evening walking round all the buildings climbing the ladders, walking on the scaffolding it was great fun. No vandalism it was just exploring and great fun.

My family consisted of my father Walter Henry my mother Kathleen and my sister Maureen at that time, later we were joined by my brother Richard, my other sister Nancy and my younger brother Fred. Those 3 were actually born at 18 Walmer Crescent.

I remember that as a baby we had one of those toys which you knock and it came back up, I must have been 18 months to 2 years old and I still vividly remember that toy for some reason. That was when we were living with my grandparents, my father's mother, at 8 Seville Street, Brighton and we had an upstairs room I still remember that. But my main memories are at Walmer Crescent we had a great time really it was lovely we were out in the country no worry there, we used to wander about over the hills even as youngsters. I know that the bus only went to the farm then, which is by the Willows surgery, it stopped there and we had to walk the rest of the way home. Of course at night there were no lights so that was a bit of an experience but I remember the farm still being there. I remember going to Elm Grove School from Seville Street, and what I remember most is they used to give you a big dollop of olive oil followed by some orange juice.

When we moved, it must been about the Coronation year, because I actually went to the Elm Grove School Coronation event as well as the Lower Bevendean School Coronation event. I must confess that the Elm Grove School one was better because they had a big party, they had a film show, fancy dress and entertainments. Whereas at Lower Bevendean School I think we got an ice-cream and a blue mug which was the centrepiece on the fireplace and my sister got one as well, so there were 2, one either side of the fireplace for many years.

My childhood was a time I used to wander, I remember the school quite well, I was in the lower school to start with and then when I went up to the next level I certainly remember Mrs Baker my first teacher there. She used to buy eggs from my father who kept chickens. There was Mrs Shoesmith, Miss Gunn and Mr Avis who took us down to Preston Manor to see a Son et lumière version of a Midsummer Night's Dream. Again that's vivid, it was a balmy summer evening which I really remember. The last teacher I remember was Mr Maskell who was marvellous. I think that all our teachers at Lower Bevendean were really wonderful. Mr Maskell used to tell wonderful tales when it was raining and we couldn't do games. We used to come out of school and there was none of this school run then, children used to walk home. We used to come out go up through the woods and climb trees and do whatever the children do in and out of the camps and secret places. And at the bottom of Hornby road just on the other side of the road there was a big climbing tree, it was totally dead but the kids used to climb up that. At the back of us, where we lived, at Walmer Crescent there were horse fields with 2 or 3 horses kept in the fields and behind that was a smallholding and I do remember we used to go and scrump apples from there. There was an elderly gentleman who used to chase us. And of course there were lots of little barns and sheds; I was not quite sure what they were for, animals possibly. But as an archaeologist its things that you don't know what they are used for that are interesting.

I remember Cambridgeshire farm because we used to go up there it was standing at one time. We used to go up there and go exploring, we never used to do any damage we would just go for a walk up to the farm. There was also Albert West then, who could see us and would then go scooting around the Falmer road and come round and someone would shout out Westie and he had his dogs and we used to go hurtling down back into Bodiam Avenue as fast as you could flee. The farm was knocked down but as you come up over Falmer Hill sometimes you can actually see it as an earthwork, when it's been ploughed. There was also another farm at the top of the hill which went over the top of Auckland Drive right at the top of the hill. I think it was to the east of the Hyde where the factories are now. The farm up there was derelict but I don't know what farm that was. [It was Heath Hill Farm].

We used to go up and explore all these places and Bevendean Farm was still standing, I remember the huge great barn and the cattle sheds and more barns they always have this distinctive smell and I think the farmer was still living there then. And I think there's a lady, who I used to look after at Partridge house when I was a carer in later life, she was the farmer's wife there, Lillian, Lill and her daughter and they still remembered living at that farm. It was a place for adventure, Dennis Potter wrote a play called Blue Remembered Hills and it epitomised exactly the life we had in the 50s.
Mr Webb was the headmaster at the school and occasionally you got sent along him. He had 3 stamps good, very good and excellent, not many people got excellent. You were quite pleased if you were sent to Mr Webb with your work and got a stamp and then of course you were mentioned at school assembly.

The school had a Christmas event when we used to have plays and Christmas Carols. Each teacher was expected to produce a play and I remember that Mr Avis in particular was very good and very adept at creating these very original plays and they were great fun. We used to go down after school and it was very odd being there in the evening putting on the grease paint and dressing up and the hall was always packed with the parents which is something you do remember.

There was always a Christmas party as well which was generally in the classroom and everybody had to bring something in and then you all shared it. Perhaps that's what they do today I don't know, but it was happy times I don't remember ever being unhappy at school at Bevendean.

The shops are still there but slightly different and opposite what was then the White Admiral the end shop was Mrs Skinner who sold fresh fish and also fish and chips, I think a piece of fish was 7 pence and bag of chips 3 pence in the old money. Then there was Mr Baldy the Butcher and next to that was a greengrocer. Then you came round the corner and there was the chemist Mr Sharpe who had a limp; if the doctor couldn't help you then Mr Sharpe would tell you what was wrong with you and give you an appropriate sort of non-prescriptive medicine. And then there was Mr Schofield and the Post Office and that's where we used to go and get our little quarter sweets or gobstoppers, comics on your way home from school and it was really was really a centre for Bevendean.

The pub had a little shop or off-licence. I think it was Mr Harry Burns who was the landlord and he had a daughter Connie. The pub was always a dreary place it was never really bright, except at Christmas then it was always bright and bustling and both bars were full with plenty of Christmas decorations. Everyone wanted to go down there for a Christmas drink. I remember as a teenager we used to go there, I had just started work and we would spend the evenings down there playing darts or dominoes and cribbage and making a half of bitter last all evening, as you do. But of course sadly that is no longer there now. My mother used to work at the pub as a barmaid for quite a few years.

The shops at the top of the Avenue were called the lower shops, we knew they were there and we used to see them when we passed them on the bus but they were too far to walk. When we moved in, for many years there was only one car in our road and that was Mr Baldy who lived opposite us. It was generally car free. In the snow you could toboggan from our house, there was quite a steep bank and you could toboggan from our house right the way down the whole road virtually to the bottom without any problems at all. The snow was pretty deep up there and pretty bleak. Of course we didn't have central heating then. The windows used to freeze inside and out it was freezing cold we didn't have carpet it was lino and we had coal fires. We used to go up to the Brighton tip, my brother and I with prams and they used to have tar logs up there. We didn't have that much money and often my father, who was on the buildings, was out of work because of various things. So you had to supplement things and we often used to go up and fill up the prams and wheel them all the way back down from the tip. There was an old track that ran down from the Race Hill to Plymouth Avenue.

There used to be a piggery up there as well, halfway up the hill, and I think it used to drop down the hill at the start of Plymouth Avenue where it comes round to the Hyde. When you think about it, it was quite a trek for youngsters but we used to take it in our stride. I do remember the street was full of kids and youngsters everyone who moved on to the estate was young and had families and everyone was used to mixing and get on together. As youngsters we used to walk all the way to Lewes and back up over the hill and down through Westlain or the Newmarket Plantation and under the bridge and along the road, before there was a dual carriageway. I remember walking all the way back from Lewes in the pouring rain with a bag over my head and you just used to just pop in and mum would say, had a good day, oh yes, we'd reply. Nobody seemed to worry in those days about what we got up to. We used to go down to the beach and spend the summer on the beach. Again we never had any money and so we used to make our own lemonade with lemonade powder and of course they didn't have Sunfactor in those days. You could go down there and spend the whole summer on the beach which is what we used to do with a bag of sandwiches and a bottle of lemonade. We used to catch a bus down there and mum would give us 3p for the bus fare home. She wasn't there, so we used to go on our own, but of course we used to spend the money on an ice cream and walk home. Walk all the way from the Palace pier back to Bevendean over the hills. Again I say it is really those Blue Remembered Hills that you remember it was great it was happy times.

When we moved up to Bevendean the doctors was at the first house Leybourne Road opposite the shops right next to the White Admiral pub. It was only an ordinary house and I think it was Doctor Roberts she was the only doctor I remember. She was a little Irish lady absolutely lovely. I knew Doctor Roberts for years and I thought she was wonderful it was a little house a bit of a squeeze and it was always congested when you went down there, you didn't book up or anything you just went. In those days telephones were very rare and so you very rarely telephoned unless it was an absolute emergency. Later she moved down to what is now the Willows surgery and had a house built there. It was quite a big house and the surgery was at the front of the house and the waiting room was at the back there was no sort of appointments you just went. You queued and there was a buzzer and you had to sit there and see who came after you to make sure that everyone went in in their right order so you organised that yourself. Woebetide anybody who tried to push in too early they would certainly get told off. I found her a wonderful lady and very very kind not that I went very often.

We had the school nurse who used to come round and look out for nits and check your teeth. There was a clinic down at Morley Road and so if you had to have teeth out that was where we went and they had gas then, these big masks put over your face and you actually went out and came to later. Of course it's all modern and different now.

The Coronation was the main thing that I remember, but I don't think there were many local activities that I can remember during my early years there. Later of course there was more of a community spirit and certainly I remember my mother often used to take the grandchildren, my children, and other children down to events on the school playing field they had fetes and things like that.

We used to go to Sunday school I think it was in a little hall. I think it's still there it was the Salvation Army hall and we used to go there for Sunday school and lantern slides in the evenings and we used to have a singsong. The highlight of the year was the Sunday School outing and I think we used to go to places like Hailsham or Nutbourne or somewhere like that.
I don't remember youth clubs or anything like that at Bevendean, in fact I joined the St Martin's Cubs along Lewes road I don't remember the Cubs or Scout group when I was at Bevendean. I was in the Cubs down at St Martin's for about 2 or 3 years and I also applied for a choir boy at St Peter's church but I didn't get that and I think I also made an application for the St Martin's choir but obviously I didn't have the right voice because I didn't get that either. We used to catch the bus down to Lewes Road for our Cubs and Scouts.

I remember Albert West who used to grow corn in the field just behind Bodiam Crescent and when he cut it they used to bale it into big bales and all the local kids would go over and create camps with these hay bales we had a great time.
All the kids used to go together or we used to wander up the track at the bottom of Walmer Crescent. Just up towards Bodiam Avenue there is a sort of cut in there and the family there was called James, and Jesse James was one of the sons. The track went all the way up to the farm and we used to wander up there because there was a big pond there. Albert West had a big pond, it may still be there, we used to wander up there and have a walk round the pond and explore. There was never any real problem with farmers, there was a little smallholding behind Walmer Crescent and one or 2 buildings even further back where there were horses. My gran lived at Woodingdean so we would cut over our back fence and pass the smallholding across the field and pick up the track and walk up to the top of Warren Road and catch a bus to see her. Sometimes we walked over to Happy Valley and then up that way we always used to be walking in those days.

There was a Scouts hut so they must have had a Scouts contingent; we had our wedding reception in the scout hut. Going back to farms, the Bevendean farm was there but was gradually knocked down and made into the children's park area. I'm not quite sure when Lilian's farm house was demolished but that probably would have been about the same time.

I do remember that right at the end of Heath Hill Avenue there used to be a big valley and they started as though they were going to build the road up over the top to Woodingdean, but they got halfway up the hill and didn't go any further. It was never completed I really don't know why.

The valley in between became a tip and that was filled in with tons and tons of rubbish and it's now squared off and flattened and it's a playing fields. Its right at the end, the bottom of Walmer Crescent, but it was all levelled when we moved up there it was a deep valley.

The farm at the top above the Hyde is not there now that was knocked down. I have often, from an archaeological aspect, thought I would like to go up and do some geophysics just to see whether the old footings are still there. When you go across the top of the Race Hill there is a lovely rounded hill it has got a lovely curve to it and I always look to see if you can see parch marks. It should be there because it was quite substantial; I remember it being a very long building. It is all flattened now. At the bottom of that hill between there and the Hyde, before the Hyde was built, it was absolutely boggy because we used to run down there and give that area a wide berth because it was very marshy. Once we all ran into knee deep mud. I think they might have built the last factory there, not Harman's but the other side, where it's got a bit of a run up to it. It has changed hands they used have a lot of dumper trucks go up and there were lots of pallets in the back where the steps are that go up to Warren Road.

I think there was a plant for bottling mineral water or something like that, because Hibberd's was one of the first factories and then there was a shoe place after that or it might have been the other way round. But I can't remember the details. One is a children's play thing now, I think that used to be the shoe place but exactly what they did I don't know. My wife worked at Harrimonde's and I worked at the Brighton Sheet Metal so there were two factories in the middle but of course that is now integrated into one.

s_021a