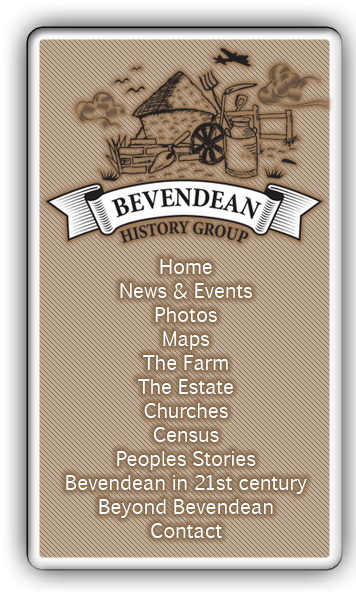 The Estate - Bevendean History Project
The Bevendean Hotel now the Bevy

The Brighton Licensing Justices first granted a licence for the Bevendean Hotel in March 1934. This may have been when construction was starting. The first plans were approved on the 23 February 1933.
On the 10 June 1936 the Brighton Borough Petty Sessional Division issued a full licence for the Bevendean Hotel when changes to the saloon bar and toilets were almost finished.
The plans submitted to the Brighton Borough Petty Sessional Division are shown below, with the original layout in the first drawing and the revised layout in the second drawing dated May 1936.
By the 14th September 1936 work was still in progress due to the difficulties in obtaining some of the materials needed to finish the alterations.
The actual date of the opening of the Bevendean Hotel is not known, by presumably is in late 1936 or early 1937.
The listing of the Bevendean Hotel first appears in the 1937 edition of the Brighton Kelly's Directory when the entry reads Bevendean Hotel (Jas. Russell) Hillside, Moulsecoomb 7.
The Bevendean Hotel, Licensees with the approximate year they started
1937 Jas Russell
1947 Oswald Allen
1956 John Brown
1966 Clifford Long
1978 Derek Ford
1986 Alan Purver
The Bevendean Hotel in 1978.
The Bevendean Hotel in 1987.
Geoffrey and Norman Stevens Pushing a Garden Roller past the Bevendean Hotel c1960.
On the 17 May 2010 the Argus reported on the closure of The Bevendean Hotel in Hillside, Higher Bevendean.
In September 2010 the Argus reported on plans to turn the closed pub at Moulsecoomb into privately-owned student accommodation.
On the 9 Mar 2012 the Argus reported that plans for the Bevendean co-op pub had been approved with locals in Moulsecoomb and Bevendean behind the plans to take over the former Bevendean Hotel in Hillside.
The Argus reported on the 6 Dec 2014 that the country's first community owned pub on a housing estate in the UK would open in 6 days, the 12 December 2014.
The Bevy, in Hillside, Brighton, has been a four year project for the local people to get it opened ever since it was closed in May 2010.
On the 13 December 2014 the Argus carried a photograph of Fr John Wall with a pint of beer in his hand following his blessing of the Bevy pub.
The front of the Bevy on 11 December 2014, prior to its opening.
The main bar at the Bevy ready for its first customers.
If you have any memories or stories of the Bevy please contact the website through our contact page.


Why was the Bevendean Hotel given this name?

Link to the Bevy website

More photos