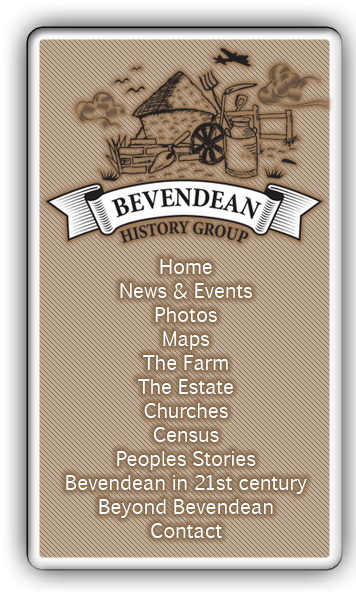 Moulsecoomb - Bevendean History Project
Hodshrove Farm
Hodshrove Farm

A stone at the side of Hodshrove Lane, dated 1086, marks the site of Hotshrove (or Hodshrove) Farm which was situated on the western slopes of Falmer Hill.
The original house was ancient, being partly halftimber and partly flint with brick dressings. The house appears to have been reconstructed with an upper floor towards the end of the 16th century and was partially rebuilt in the 18th century. The house at this time was thought to have consisted of a hall and two parlours.
The building was derelict by the time the East Moulsecoomb housing estate was being built and was subsequently demolished.
Today one flint outbuilding (the Boxing club) and a small wall are all that remain of Hodshrove.
Hodshrove Farm was approached from Lewes Road along Hodshrove Lane.
In 1881 the farm had an area of 875 acres and John Lively the farmer employed 16 men and 6 boys.
The Pelham family bought the Stanmer Estate in 1713 and enlarged the estate during the 1800s. By 1799 Hodshrove farm was part of the estate as shown by a map drawn by William Figg in that year.
Hodshrove Farm is on the left hand side of the map about one-third of the way up.
A table on the corner of the plan gives the total area of the farm as 746 acres when it was called Hotshrove rather than Hodshrove Farm.
| | | | | |
| --- | --- | --- | --- | --- |
| | Reference to Hodshrove Farm | | | |
| No | Names of Lands | A | R | P |
| 1 | House, Barns, Yard, Garden, Crofts, etc. | 3 | 3 | 9 |
| 2 | Road to House | 0 | 2 | 14 |
| 3 | The Field before the House | 9 | 2 | 26 |
| 4 | The Further Field | 3 | 2 | 16 |
| 5 | The Plantation behind the House(In hand) | 3 | 1 | 20 |
| 6 | Home Laine | 143 | 3 | 29 |
| 7 | Short Heath Field | 17 | 0 | 22 |
| 8 | Heath Hill Down | 276 | 1 | 28 |
| 9 | Hick's Hill Piece | 8 | 2 | 38 |
| 10 | Piece of Arable Land South of New Barn Field | 45 | 1 | 21 |
| 11 | New Barn Field | 13 | 0 | 14 |
| 12 | Down Land, Wye, etc. | 169 | 3 | 22 |
| 13 | Part of Pattis-Wye, Arable | 29 | 0 | 28 |
| 14 | Hither Lodge Field | 7 | 3 | 6 |
| 15 | Farther Do. | 9 | 3 | 0 |
| 16 | Plantation in Lodge Field (In Hand) | 0 | 2 | 28 |
| 17 | Plantation in Lodge Field (In Hand) | 0 | 2 | 24 |
| 18 | Plantation in Lodge Field (In Hand) | 1 | 0 | 11 |
| 19 | Plantation in Lodge Field (In Hand) | 1 | 1 | 12 |
| 20 | Cottages and Gardens at Cold Dean | 0 | 3 | 0 |
| | Total Hodshrove Farm | 746 | 3 | 8 |
Hodshrove Farm continued