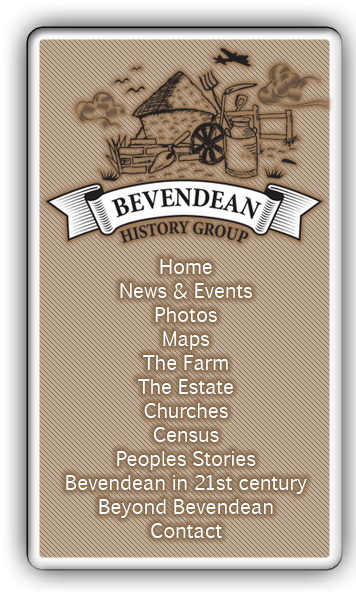 Bevendean History Project

Canal from Brighton to Lewes via Bevendean
In 1825 there was a proposal for a canal from Lewes to Brighthelmston, which would have left the river at Lewes, rising through 29 locks, and required a 1.5 mile (2.4 km) tunnel to reach Brighton.
The route of the canal as planned would have run nearly to the top of the valley called Cranedean.



The Cranedean valley is south of the A27 and Housedean Farm. (Image from Google maps)

From there the canal would have gone through a Tunnel of one mile and a half to carry the canal under the Downs, which would have brought it out a short distance east of Bevingdean Farm.

After leaving the west end of the tunnel, the route would have crosses the valley near Bevingdean by an embankment, keeps on the side of the hill nearly in a level cutting, and crossing the Bevingdean road below the wind-mill.

Competition arrived in the early 1840s, when the London and Brighton Railway was built. Construction on the section between Brighton and Lewes starting in September 1844. This section opening on the 8th June 1846.
The canal from Brighton to Lewes was never built as by the 1840s it was seen that it would not be profitable.



Plan of a proposed Canal from Lewes to Brighthelmston. The Engineer was Alexander Clark, and William Figg junior was the Surveyor who drew the plan in 1825.

The plan shows the proposed canal running through a tunnel from Bevendean to Cranedean, and thence through a series of locks to the River Ouse at Lewes.
Parishes through which the canal would have run are: Brighton, Preston, Patcham, Falmer, St Ann or St Peter and St Mary Westout Lewes, St John the Baptist Southover, St Michael, All Saints Lewes.

Place names that the canal would have passed by or through.
Sussex Street, Richmond Hill, Apollo Terrace, Chalkpit, Marine View, alms-houses (all in Brighton).
Mr Kemp's Farm, Ashcombe, Hare Dean Down, Winterbourne, Cockshut Sewer.
The map also shows basins at Brighton and Lewes.