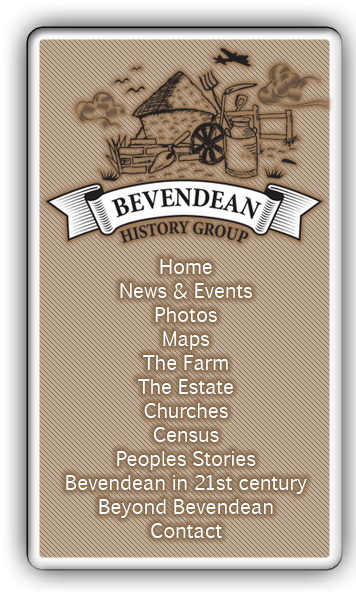 Bevendean History Project
Lockdown! - written
at the beginning of May 2020
At the moment we do not seen to know which day is which!!!
The pace of life has changed and become more relaxed, but we miss spending time with the grandchildren who we usually look after one day a week. We have seen them but only at a distance and they have not been able to climb over us like they usually do.
The last time John did any scanning at the Keep was the 19th March, because the Keep closed to staff and visitors from 23 March and is likely to remain closed for a while yet.
This has left us with time on our hands which John initially spent trying to sort out his church records; however, he did not go out of the house much or take any exercise which led to a problem with his ankles and legs swelling.
He rang the doctors surgery and spoke to a receptionist who said the doctor would ring back later that morning. He diagnosed the problem and sent a prescription to the local chemist which someone picked up for us. This did the trick.
I had more difficulty contacting the dentist, as I had almost finished a special toothpaste I have to apply to protect one of my back teeth. After a number of calls to the surgery over two days I eventually got a reply and was able to collect the toothpaste from one of their surgeries.
When it became clear that we could exercise out of the house once a day, we have been for a walk, most days, of one or two miles around the roads on the estate or up onto Bevendean Downs which is five minutes away. This solved the problem of John's swollen legs and ankles; clearly too much sitting down especially in front of the computer was bad for him.
I decided that we needed to give the house a spring clean the way my grandmother would have done, cleaning the edges of the rooms and the walls and letting the middle take care of itself. I usually do things the other way round! Downstairs is finished and the hall stairs and landing and John has done the bathroom. He has also assisted, when necessary, to move furniture or kneel down on the floor which is something I have been told to avoid due to the artificial knee I have in one leg.
Fortunately I have been able to continue with a shopping delivery each week for my main shop and have been able to buy things that the Supermarket hasn't got from small local shops. Flour for making bread has been difficult to obtain. However a small butcher shop in Lewes Road has started to sell flour, yeast and some vegetables as well as meat and he will deliver locally. Also Park Farm shop at Falmer will take online orders and deliver to some local areas of Brighton, although I like to go to the shop and select for myself.


A loaf of homemade Brown Bread

I have started making bread again every few days and more cakes than I did before lockdown. This is the second loaf I made using a mixture of Brown and White flour. It was delicious and was eaten quickly.
 
The cinnamon buns on the right were made using a recipe from our daughter-in-law in Estonia. When she makes them they disappear very quickly with four hungry boys in the house.
I will have a go at making Chelsea buns in due course but have made one of my ginger cakes this week.
We both realise that when we come out of the current lockdown life is going to be very different for a while, and hopefully there will be time to continue more home cooking and less time will be spent chasing our tails.



Marjorie Phillips



Recipe for the cinnamon buns