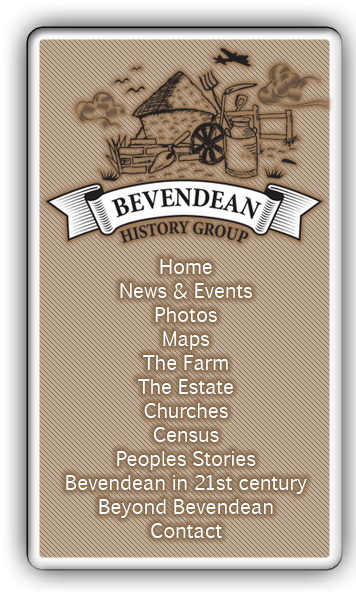 Stories - Bevendean History Project

Peoples Stories about Bevendean and the local area - 1

More
Stories

More stories can also be found at the end of the estates page
Doug Raynsford, Memories of Bevendean
In 1948 at the age of 10, Doug moved with my family into a new house in Norwich Drive at Lower Bevendean. As a boy he played on the woods at the side of Heath Hill Avenue.
[
Story_001]
Doug Raynsford, When I was a Kid
"Things I remember when I was a kid"
by Douglas Raynford.
A poem from Doug Raynsford
[
Story_002]
Sheila Lemon, Memories of Lower Bevendean
Sheila was one of the original Plymouth Avenue residents. Her husband Bill Lemon was a paid labourer on the self-build houses in Plymouth Avenue
.
[Story_003]
Violet Bradford Memories of Lower Bevendean
It was a new council property. Homes built for men coming back from the war.
There were no pavements when we moved in just mud!
[Story_004]
Norman Allcorn's Memories of Bevendean Farm
Memories of living on the Farm
at Lower Bevendean from 1932 until 1942, when his grandfather was forced to vacate the farm as he would not go mechanised.
[Story_005]
Michael Short remembers Bevendean
Michael moved to 179 Norwich Drive in 1962 from Moulsecoomb Villas. He remembers Cambridgeshire Farm on the hill above Bevendean valley. See the farms page for more information.
[
Story_006]
Marjorie Phillips memories of Bevendean
Marjorie moved from Nesbitt Road to Plymouth Avenue in May 1954 and
attended Bevendean School. She went to her Aunts house in Manton Road for lunch and remembers the local shops.
[Story_007]
Les Wilson memories of Bevendean
Les lived at 9 Manton Road when he was a child having moved there in the 1930s. During the Second World War he worked as a Bevin in a coal mine at Llay in North Wales.
[Story_008]
Colin and Margaret West - Memories of Upper Bevendean Farm
Colin & Margaret talk about Upper Bevendean
Farm, they remember Cambridgeshire Farm. The farm was larger originally and was bought by the council in 1939. The Bevendean housing estate was built on some of the farm land after the war.
[Story_009]

Carol Hamilton remembers Dr Roberts
The first doctor's surgery was in
a council house in Leybourne
Road which had a small consulting room built on the side. A new surgery was built on the corner of Heath Hill Avenue and Auckland Drive in 1959.
[
Story_010]
Norman Allcorn remembers Moulsecombe

The Bevendean Hotel, now the Bevy, was Normans Fathers local. Norman asks why was it called the Bevendean Hotel when it is in Moulsecoomb?
[Story_011]

The Geere Family History
The Geere family came from Ovingdean
.
The will of Charles Geere proved in 1736 said that he was a Yeoman from Bevingdean in the parish of Falmer.
[Story_012]
John Lakin memories of Bevendean
He moved into a new house in Hornby Road about 1950
and attended the Sunday School in the Barn Church. John remembers that the winters were very cold and the outside toilet often froze.
[Story_014]
Eileen Ridge's memories of Bevendean
We moved to Lower Bevendean on 13 December 1933 when I was 5 years old. Eileen went to Coombe Road School which meant quite a long walk. The father of her friend, Tracey Baldwin was the horse man on Bevendean Farm.
[
Story_015]
Esme White remembers Bevendean
Esme lived in Higher Bevendean and walked over the Downs before the war. She went to Moulsecoomb School as the school at Bevendean had not been built.
In 1955 Esme moved into a bungalow in Plymouth Avenue.
[Story_016]
Ivy Diffin remembers Upper & Lower Bevendean
Ivy moved to Bevendean Crescent in 1932 at the age of 2 and went to Moulsecoomb School. She moved to Lower Bevendean Avenue in 1957 and lived there for many years.

[Story_017]
Memories of Brown Loaf Farm by Frank Edwards
Frank was born
in The Avenue and roamed the Downs above Bevendean. He especially remembers visiting Brownlow Farm (Brown Loaf Farm) which was run by his grandfather.
[Story_018]
Diane George remembers Bevendean
Diane lived in a cottage on
Brown Loaf Farm in the 1940s. When the cottage was
condemned, as unfit for human habitation in 1952,
her family moved to a prefab in Heath Hill Avenue.
[Story_019]
Bess Tuppin's Memories of Coldean
Bess was born in Cambridge and moved to Brighton in December 1944. In 1957 she moved to Coldean
and became involved with the church and the guides.
[Story_020]
More Peoples Stories