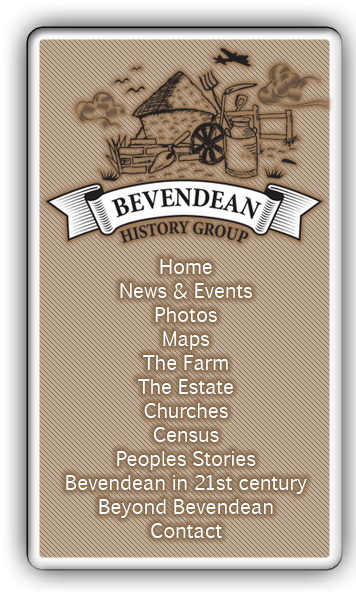 Bevendean History Project
Edith Allcorn's 1920s hand written recipes
Edith Allcorn the farmers wife at Lower Bevendean Farm had a notebook containing hand written recipes and recipes taken from magazines which were pasted into the book.
A number of these recipes have been transcribed and are reproduced below.

Vanilla Soufflé
Mix well together 2 tablespoonfuls of cornflour in 2 of flour. Moisten with a little cold milk. Put to boil half a pint of milk, and when boiling stir in the flour and cornflour, stirring continually until it thickens. Remove from the fire and add the beaten yoke 4 eggs, a quarter teaspoon full of salt and 1 teaspoon full of vanilla. Beat the whites of 4 eggs until very stiff, and stir into the hot mixture. Put in custard cups and bake in a hot oven for 15 min.
Sauce for Vanilla Soufflé
Moisten 1 teaspoon full of cornflower in a little cold water. Then add half a pint of boiling water, stirring well for a minute. Mix one well beaten egg with half a cup of sugar and an ounce of butter. Pour the boiling mixture over this, and add one teaspoonful of sherry or orange juice.
Steamed Bread Pudding
Scald a pint of milk; add a cup of stale breadcrumbs, a tablespoonful of butter and a cup of sugar. Mix well and let it stand until cool. Beat 3 eggs light without separating, add to the pudding with half a teaspoonful of vanilla add a pinch of cinnamon. Turn into a greased pudding mould, and steam for an hour and a half. Fruit may be added to the pudding if desired, either raisins or currants floured and added with the eggs, or canned cherries or peaches well-drained from their syrup before flouring.
Peach Shortcake
1 quart of flour, 2 cups of milk, luke warm, 2 teaspoonfuls of lard and one of butter, half teaspoonful of salt, one can of peaches. Rub the shortening into the salted flour, wet with the milk and roll into a sheet half an inch thick. Line a broad, shallow baking pan with half of this; drain the liquor from the peaches, lay them out on the cloth to get rid of all the juice that will come away, put them in a thick layer on the paste in the pan, strew with sugar, cover with the reserved crust and bake in a good, not too hot oven. When done, cut into squares and pile on a dish. Split and eat with butter and sugar.
Cream Sponge Cake
Beat the yolks of 4 eggs until stiff, add gradually one cup of sugar and beat well, add 3 tablespoonfuls of cold water and one tablespoonfuls of lemon extract. Mix one scant cup of flour with one half tablespoonful of cornflour (measure level) and 1 teaspoonful of baking powder, add to the first mixture, add the well beaten whites of 4 eggs. Bake in a shallow cake tin. This cake should settle after coming from the oven.
Pulled Bread
Procure 2 or 3 French rolls, pull out the soft inside with a fork into rough pieces, sprinkle with a very little hot milk. But the pieces on a clean baking tin, baked very slowly till a golden brown and quite crisp.
The new loaf may be used instead of rolls.
Queen Cakes
5 ounces flour, 4 ounces butter, 4 ounces sugar, 3 ounces candied peel, 4 ounces currants, 2 eggs, grated rind of half a lemon, half teaspoonful baking powder.
Cream the butter and sugar together add the eggs and beat them in well, then add the fruit and rind of lemon. Mix the baking powder with flour then put it in lightly. Do not beat the cake mixture after the flour is in - bake in a moderate oven not too hot.
Plain Gingerbread
3 cups of flour, one cup of sugar, 1/4 butter, 1 egg, 3/4 cup treacle, little soda and cream of tartar, 1 tablespoon ginger, and milk, to mix into rather stiff batter.
Gingerbread good
1 pound flour, 1 pound treacle, 1/4 lb moist sugar, 1 egg, quarter of an ounce of carbonate of soda, 3 ounces butter, 1 ounce ginger, quarter cup of water 1 ounce candied peel, put the flour, ginger, sugar, peel and soda into a basin, warm the treacle water and batter in a saucepan. Mix with the dry ingredients add the egg well beaten, partly fill a well-greased Yorkshire pudding tin smooth over with a knife dipped in hot water an score with a knife. Bake in moderate oven for about an hour and a half.
Rice Cakes
6 oz. ground rice, 3 ounces fine flour, 3/4 or 1/2 lb loaf sugar, beat fine and sifted, 9 eggs leaving out 3 of them, whites beaten all well for an hour, put immediately into oven and takes three quarters hour
Baked Raisin Pudding
1 lb flour, 3/4 lb stoned raisins, 1/2 lb of suet, 1 pinch of salt, 1 ounce sugar, milk
Chop the suet fine, stone raisins, add salt and sugar, and moisten the whole with sufficient milk to make a batter. Put pudding into buttered pie dish and bake for 1 1/2 hours. Turnout and strew sifted sugar over
Ginger Snaps
1/2 lb treacle, 1/4 lb brown sugar, 1 lb flour, 1 tablespoonful ground sugar, one of caraway seeds. Work the butter into flour. Then mix with treacle, sugar, ginger and caraway seed. Work all well together and form into cakes. Place on baking tin in moderate oven and bake for 20 min
Golden Pudding
1/4 lb flour, 1/4 lb breadcrumbs, 1/4 lb suet, 1/4 lb sugar, 1/4 lb marmalade and 1 egg. Mix all well together, put in a buttered basin and boil 3 hours
Plum Pudding Sauce
Mix a little pounded lump sugar with some melted butter, add a glass of sherry, a small glass of brandy, a little nutmeg and lemon peel grated
Pancakes
Make a batter from eggs, milk and flour. Well beat up together and fry them in hot lard - pinch of salt
Mamas Pudding
Boil 1/2 pint milk with the Sorrel leaf and a bit of cinnamon, pour it upon a cupful of grated crumbs of bread - add 3 eggs well beaten and a little grated nutmeg and lemon peel - a teaspoonful of orange flower water, sweeten to taste. Butter a basin, stick currents or split raisins in rows upon it. Stir the whole ingredients of pudding well together and pour into the basin - Boil 1 1/2 hours
Puff Pastry
Put 1/2 lb fresh butter into 1 1/2 lbs. of flour, add a little water and make a moderately stiff paste, work it well. Next roll it out thin, put some bits of butter on it - dredge it with flour and double it up again repeat this operation 3 times using 3/4 of a pound more butter. When done lay the paste by for half an hour.
Paste for Meat Pies
Rub together 2 lbs. flour, 3/4 lb good salt butter, beat 1 or 2 eggs and mix well it, add water to make proper paste and roll it out thin as before directed
Tart Paste
Rub 1/2 lb fresh butter into 1 lb flour add the yoke of an egg, a little lump sugar and enough milk to mix properly.
Scotch Scones
1 lb flour, 1/2 teaspoon of cream of tartar, 1 oz. bicarbonate of soda
1/4 lb sugar, Salt to taste
Mix together and add slowly 1/4 pint of milk.
Mix into a dough and roll out half inch thin bake in hot oven
House Loaf
5 eggs
Breakfast cup of sugar
Beat together for 20 min add lightly breakfast cup of flour.
Bake slowly for one hour.
Ground Rice Cheese Cakes
2 oz. butter, 1 egg, sugar to taste, ground rice to thicken.
Mix butter, egg and sugar well together then thicken with ground rice.
Paste mixed with hot lard with milk and water.
Sultana Cake
2 Cakes
1 Cake
1/2 quart Flour
1 pint
3/4 lb Sugar
1/2 lb
4 Eggs
2
3/4 lb Butter
1/2 lb
1 1/2 lb Sultanas
3/4 lb
1/2 lb peel
1/4 lb
2 1/2 Nutmegs
1 1/2
2 oz. Almond Essence
1 oz.
1 Dessert Spoon of Baking Powder
1/2
1 Dessert Spoon of Egg Powder
1/2
1/2 Dessert Spoon of Salt
1/4
Mix with Milk prepare same as Christmas Cake
Junket
1 pint milk just tepid
1 teaspoon of Rennet
Sugar to taste
Take skin off milk, mix in Rennet and stand to cool
Madeira Cake
1/2 lb fine flour
1/4 lb castor sugar
1/4 lb Peel
2 oz. butter
1 1/2 teaspoons baking powder
1 egg
1/4 pint of milk
Mix almost to a cream
Nutmeg Cake
1 pint flour
Half a nutmeg
2 eggs
1/4 sugar
2 ounces butter
Pinch of salt
Mix with milk almost to a cream
Rock Buns
1/4 lard
1 lb flour
1/4 Sugar
2 teaspoons Baking Powder
1/4 Currants
1 egg and milk
Directions Mix to a stiff Paste and Bake in Hot Oven
Ground Rice Sandwich
1 Breakfast Cup Flour
1/2 Breakfast Cup Castor Sugar
1/2 Breakfast Cup Ground Rice
2 Eggs
2 oz. Butter
10 drops Essence of Lemon
Mix with Milk
Plum Cake
1/4 Butter
1/4 Sugar
1/4 Currants
1/4 Peel
1/4 Sultanas
1/2 Flour
2 eggs
Teaspoon baking powder, mix with milk, bake 2 hours
Jellied Milk
1/2 pint milk, 1/4 oz. gelatine
3 or 4 cubes of sugar loaf, gelatine till soft in cold water, drain off water. Pour onto gelatine boiling milk and sugar set all night
Brandy improves flavour
Quaker Oat Buns
1/2 lb Quaker Oats, 1 cup granulated sugar 1/2 cup pressed tight, margarine or margarine and lard mixed. Mix as for cake, with 1 large hen's egg or 2 small eggs, mix so just clings to make into small balls


Recipe for Mrs Allcorn
Quickly made Lemon Curd
Line patty pans or a large tin with shortcrust and half fill with the following mixture.
2 oz. each of butter & castor sugar, 1 egg, 1 juicy lemon
Cream the butter and sugar till soft. The egg is added and well beaten into the mixture and lastly the lemon juice is mixed in very gradually. Bake in the usual way.
This kind of lemon curd is not cooked beforehand, but is put into the tarts as soon as mixed and baked with the pastry.
Lemonade Cordial (15-May-1927)
1 1/2 lbs. granulated sugar
1 ounce tartaric acid
1 teaspoon full Fryco Lemon Essence
Directions
Put the above ingredients in the order given into quart vessel. Add nearly a quart of boiling water and stir until sugar has dissolved. Let cool and then pour into bottle.
Lemon Tart
Line a greased plate or tin with shortcrust or flaky pastry. Put a band of pastry round the edge (A sandwich tin is easiest.)
Pricked the bottom, lay a greased paper over and fill with raw rice or crusts to prevent pastry rising too much, and return to oven to crisp bottom of pastry. Fill with the following mixture:
Blend 1 oz. of cornflour with one gill of cold water, put it into a pan with the grated rind and strained juice of 2 lemons and stir until boiling. Cool, and then add 2 ounces of castor sugar & 2 beaten yolks of eggs. Spread this over the pastry ant bake in a moderate oven for 10 to 15 minutes.
Beat the whites of the eggs to a stiff froth, sweeten to taste, flavour with vanilla & pile over the tart. Sift castor sugar over and return to the oven to brown the meringue lightly.
Coconut Biscuits
2 oz. desiccated coconut, 2 oz. caster sugar
1 teaspoonful flour, White of 1 egg
Mix and firm with white of egg place small rounds on floured paper and bake to pale brown
Christmas Pudding
2 lb raisins
2 lb currants
2 lb sultanas
3 lb suet
2 lb flour
1 1/2 lb sugar
6 eggs
Brandy
Baking powder
Nutmeg & Spice
1 cup of breadcrumbs
1 lb peel and milk, tea
Christmas Cake
3 lb flour
1 lb Butter
1 lb sugar
1 lb Currants
1 lb sultanas
1 oz. Baking Powder
1/4 lb almonds
1/4 lb peel
Spice
6 Eggs & milk
Cherries
Treacle
Queen Tarts
Line patty tins with pastry and put half a teaspoonful of Raspberry Jam in each, then bake.
Then take one egg, its weight in butter, sugar and 2 tablespoonfuls milk, 1 teaspoonful of grated lemon rind, a pinch of baking powder. Mix as for cake, filled the tarts and bake.
Apple Pasties
Line small tartlet tins with shortcrust. Fill with the following mixture, cover with another thin sheet of pastry moistening the tops and bake for 40 minutes.
One apple peeled and chopped 1 dessert spoonful of sultanas or currants, 2 tablespoons fresh white breadcrumbs, one large tablespoonful of golden syrup or marmalade. If preferred rind grated or juice of one lemon, one tablespoonful of sugar.
Queen Cake
Weight 2 eggs in flour and sugar, 6 ounces butter, 1 teaspoon full baking powder, few currants. Cream eggs and butter and sugar well and add flour gradually.
Swiss Roll
2 eggs, 2 tablespoonfuls flour, 2 tablespoons full sugar, 1 teaspoon full baking powder
Lunch Cake
1/2 lb flour
1/4 lb caster sugar
1/4 lb Sultanas
3 ounces butter
1 ounce Peel
2 teaspoonfuls baking powder
1 gill of milk
1 egg
Bake in moderate oven for 1 hour
Scones
2 handfuls flour, 2 oz. butter, 1 teaspoonful baking powder, mix with milk and bake in hot oven about 8 min
Rhubarb Wine
5 lbs. fruit, 1 gallon of water, stand 3 days. The strain, add 3 1/2 ounces lemon and sugar to 1 gallon syrup: then bottle and cork
Jam Sandwich
One egg and the weight of butter worked to a cream (with a spoon)
1 1/2 oz. sugar, 2 1/2 oz. flour, 1/4 teaspoon baking powder and a teaspoonful of milk
Just so was it will drop into the tin, a round one, to just spread all over alike in the tin and bake a nice light brown. Double this quantity makes a nice thick sandwich.
Feather Cakes
One and a half breakfast cups full of flour, 1 cup full small sugar, 2 ounces butter, 2 teaspoonfuls baking powder, 2 eggs, and half cupful of milk.
Put the butter in the flour and baking powder and baste in milk and eggs. The mixture should be a little thicker than Yorkshire pudding; bake about half an hour to 3/4 in a medium oven.
Sponge or Almond Cake
Beat with 12 ounces sugar, 6 eggs then put in 7 ounces flour by degrees, a few drops of essence of lemon or one lemon peel grated also a few bitter almonds grated. Bake half an hour in a tin in a middling oven.
Rock Cakes
2 lbs. flour, 1 lb currants, 1 lb butter, 1 lb sugar moist or sifted, one glass of brandy - make into small cakes and bake about 20 min
Lemon Flavoured Cakes
Beat 6 eggs with 12 ounces sugar. Stir in 7 ounces flour and a few drops of essence of lemon or the peel of a lemon grated. Bake in a moderate oven half an hour
Madeira Cake
One and three-quarter pounds butter, 2 lbs. sugar, 2 to 4 eggs, 2 lbs. flour and 1 lb patent flour. This will make 8 cakes at one shilling each. Put thin slice of Peel on each cake
Bread Sauce
1 pint milk, 3/4 lb crumbled stale loaf, one onion, pounded mace, cayenne and salt to taste, 1 ounce butter and small quantity cream before blending together. Time one and three-quarter hours. Sufficient for Turkey, Fowls and Partridges.
Horse Radish Sauce to serve with Roast Beef
4 tablespoonfuls grated horse radish, 1 teaspoon full powdered sugar, 1 teaspoon full salt, half teaspoon full pepper, 2 teaspoonful mustard (made), and vinegar to taste
Melted Butter
1 teaspoonful flour, 2 ounces butter, 1/3 pint milk, little salt
Melted Butter, another way
1/4 lb butter, dessert spoonful of flour, 2 wine glasses water, salt to taste
Ginger Wine
2 drams Essence of Ginger
2 drams Cayenne
3 drams Tartaric Acid
1 penny worth burnt sugar
2 lbs. loaf sugar
6 pints boiling water
1 lemon
Put sugar, sliced lemon and other ingredients into a jar. Pour the boiling water over them. Bottle and then cork.
Treacle Sponge
2 Teacupsful of flour
6 oz. suet
1 teaspoonful baking powder
1/4 lb brown sugar
Pinch of salt. Put all in a basin beat up well, 1 egg add a little milk, 2 tablespoonsful treacle. Stir all together put in a greased basin and steam 3 hours.