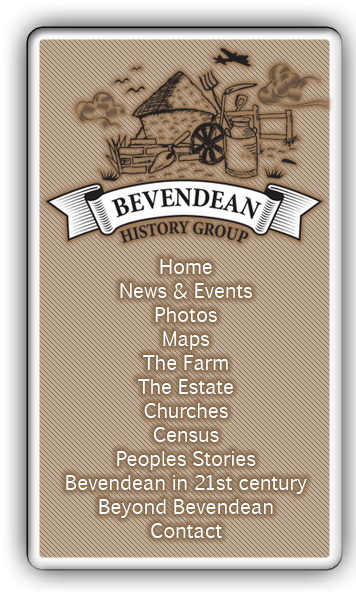 Bevendean History Project

New
s and Events
NEW
Information from Beverley Webster, nee Feast, whose father Len was the chairman of the
Apex Self-Builders
in Heath Hill Avenue.
NEW
The Bates Estate was built on land formerly used as a Nursery by members of the Bates family, including plans and photographs from 1953 to 2018.

NEW
Geoffrey Fitch asks, "Where is Juggs Lane?"
NEW
Photographs of the Wild Park from Clare the owner of the Wild Park Cafe.
NEW
Brett Marchant's grandfather,
William Marchant
is in a
photo dated the 4th September 1953, where men are laying new roads on the Bevendean Estate.
NEW
Aerial Views of the Avenue
Photographs of the Avenue
were taken from an aeroplane in December 1932.
Bevendean Hotel - The Bevy

Why was the
Bevendean Hotel
not called the Moulsecoomb Hotel?
More
photographs of the Bevy
including the 80th Anniversary Celebrations.
Higher Bevendean
30 Acres of land was sold to Braybon Builders to build 384 houses at
Higher Bevendean
in 1930.
Ownership of Bevendean Farm
The
pre-1945
estate page
now has more information on the ownership of Bevendean Farm from 1698 and a link to the Auction Sale Catalogue for the Upper and Lower Bevendean Estates in 1912.
Aircraft Lands on the Avenue Green
On the
16 May 1939 an aircraft
made an emergency landing just before midnight as it was running out of petrol.
Plan to build Prefabs on the Avenue Green
Added to the page in the
estate section on the prefabs
, plans also added to the
Maps page
.
Bevendean Newspaper Stories from the 1940s and 1950s
Mr Toppings
Newspaper Boys
- Newsagents at no. 10 Upper Bevendean Avenue.
Boys make a
Cricket Ground
on the Avenue Green about 1946/47.
Doctors Surgery in Heath Hill Ave
Surgery closed in 2016
plus
photographs and plans
.
Self Build Bungalows in Heath Hill Avenue
Two different Self Build Associations constructed 50 semi-detached bungalows on the either side of
Heath Hill Avenue
including photographs taken during the work.
The Self-build Houses in Plymouth Avenue
Plans and photographs
have been added to this section.
Newspaper articles
are now on a separate page.
Inscription on
Commemorative Plaque
.
More photographs of Stanmer Church and Village
Stanmer churchyard memorial
photographs
.
Donkey Wheel and Horse Gin
at Stanmer.
Revised Layout
The

Recipes

can be found in the Farm section and the

Original Press Release

is now at the bottom of the news page.
The section

Bevendean in the 21st century

will contain information on Bevendean from the year 2000.
Beyond Bevendean

now contains information on the Parish of Falmer since Bevendean was in the Parish of Falmer until 1931.
The Bevendean History Booklet was published in 2014
A copy of the booklet is available for a small donation from the LECCA Cafe in Leybourne Road, Lower Bevendean.
http://leccacafe.co.uk
Alternatively you can use the contact form on the website.
Press release: Action for Bevendean Community - ABC, wins £10,000 Heritage Lottery Fund support for local History Project!